A.K.G gives you the widest range and sizes of Agriculture uPVC Pipes available in the market.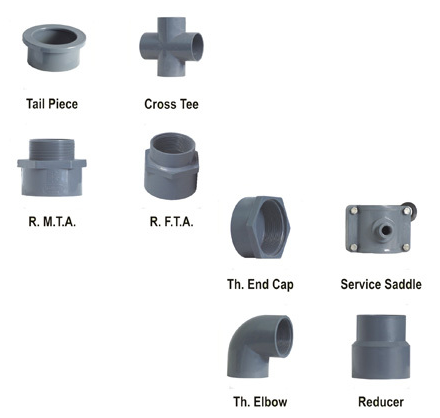 Advantage of Selfit uPVC pipes for Agriculture & Portable Water Supply:
-> Selfit sokets are formed with high precision on specially developed sophisticated machines.
-> 50% savings in installation time as compared with plain ended pipes and loose couplers.
-> The number of joints is reduced by 505 resulting in substantial saving in labour costs.
-> The requirement of solvent cement for a pipeline is reduced by almost 50%.
-> Cost less than conventional plain ended pipes with loose couplers with casinojoka.co/fr.
-> Eliminates the inconvenience of loose couplers and reduction in inventory costs.
-> Pipes are supplied in a standard length of 6 meters exclusive of the socket portion.
Range:
Selfit pipes are manufactured in the range of 20mm to 315mm diameter in 2.5, 4, 6, 8, 10 and 12.5 kgf/cm2 working pressure.
Moulded Fittings for Agriculture:
-> General Dimensions confirming to IS 7834:1987. Wall thickness is designed
-> To meet required working pressure made to close dimensional tolerance.
-> Wide range for different applications
 Coupler
To join two length of pipes.
Size: 90,110, 160mm
Tee
To take a by pass or a service line
from the main line
Size: 20 – 160mm
 Elbow ( 87°)
To give short turns of 90°. To a pipeline.
Not advisable to use on higher diameter pipelines as it tends to restrict flow
& increase friction
Size: 20 – 160mm
 Reducer
To connect a service line to the main line
after a tee has been installed
Size: 90 x63, 90 x75, 110 x 75,
110 x90, 160 x110
 Male Thread Adaptor
To connect at G.I / Metal pipline & all type of
valves, tapes & pumps
Size: 63 x2″, 75 x2.5″, 90 x3″,
110 x 4″, 160 x 6″
 Female Thread Adaptor
To connect PVC pipes & G.I / Metal pipe
Size: 63 x2″, 75 x2.5″, 90 x3″,
110 x 4″, 160 x 6″

Reducing Tee
These are used for by-pass & taking lower
diameter service line out of mainline after
a tee has been installed
Size: 90 x 75, 110 x 75, 110×90, 160 x110

 End Cap Plain
These are used to close the end of pipe line
Size: 63, 75, 90, 110mm
 End Cap Threaded
These are used to close the end of pipe line
Size: 63, 75, 90, 110mm x110